Coming Soon - Wild Spring Festival Dates Announced
Dec 11, 2013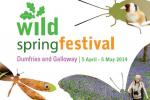 The dates for the Wild Spring Festival 2014 have been announced - the festival will take place from Saturday 5th April to Monday 5th May across multiple venues in Dumfries & Galloway.
The region's annual Wild Spring Festival will feature over 100 wildlife events, many free and most hosted by local wildlife guides and experts. In 2014, the festival will celebrate Homecoming Scotland with a series of events focused on the many species coming home to the region this Spring.
Set amidst beautiful unspoilt countryside the festival is perfect for families and wildlife fans alike looking to discover this most surprising and naturally inspiring part of Scotland. From frogs and fishtails to badgers and buzzards, and from red deer and reptiles to bats, moths and the charismatic red squirrel, Dumfries and Galloway is teeming with wildlife.