News & Events Archive
October Events in Moffat
Sep 26, 2013
There's lots happening at Moffat Community Nature Reserve in October!  Family friendly events include a walking festival on 5th October (including a bat walk in the evening), 'Build a Bug Hotel' on 18th October and Pond Dipping on 25th October.  The last two events are part of the Wild Autumn Festival.
Wild Autumn Festival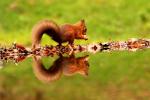 Sep 19, 2013
Dumfries and Galloway's inaugural Wild Autumn Festival gets underway this year, running from 12th October until 3rd November and featuring over 50 wildlife events; many free and most hosted by local wildlife guides.